Sit up straight, Marcia...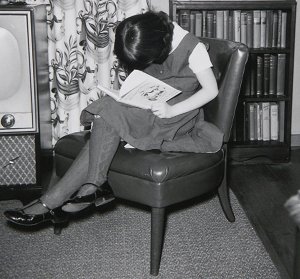 I didn't believe my mom when she said I buried my nose in my book. So one day my dad got out his camera and proved it.
That's how it all began -- with reading. My mom read to me, and my dad took me to the library. I learned to read before I started school. I enjoyed Nancy Drew, The Happy Hollisters, Mrs. Piggle Wiggle, Caddie Woodlawn, Anne of Green Gables, and many more.
When I was 8 or 9, I began writing my first book. I had a girl detective, two villains who posed as schoolteachers, and a title: The Haunted Chimney. But I didn't know why the chimney was haunted, or how my detective would solve the mystery. I didn't finish that book, nor the countless others I began through my teen years, though I sometimes wrote as many as 80 pages before petering out.
At Carroll University, I majored in math and business -- math because I loved math, and business so I could get a job. But my heart still lay with fiction writing, and I began to study the craft on my own. In 1993, my first middle-grade novel, A Place of My Own, was published by Crossway Books.

Nine books later, I still love writing. I teach two courses for The Institute of Children's Literature. I speak to school groups and other organizations, and I do freelance critiquing and copyediting.
But life isn't all books. Worship is very important to me, in fact the foundation on which everything else is built. I love spending time with my family. I love history and research. I love ice cream! I dabble in singing, flower gardening, photography, math and word puzzles, home improvement, and sometimes -- even cooking and exercise. :)